Every birthday is special, but there are also special anniversaries. In addition to those milestone birthdays these are the dates that also mark a boundary.
There are many years in the life of a lucky person that should be celebrated more seriously, and as the years increase, the form of gifts and greetings also changes, and holidays gain more and more emphasis and importance.
For special occasions, special greetings and special birthday gifts are also available. Here are some ideas.
That certain 18 - 18th birthday present
The 18th year of age is officially considered the age of adult age, among other things, one can enter into a contract, get married, and drink alcohol from then on. For many of us, this year also marks the beginning of busy working days.
As an 18th birthday gift, cake is less cool, but for some reason, regardless of gender, boys and girls also receive their first serious jewelry from their loved ones at this time. Mostly of course from the parents, in the case of girls it is often a necklace, while for boys a more elegant watch is the object of the surprise.
Many people are surprised by it, but a man or future man receives a bouquet of flowers for the first time on his 18th birthday. Of course, this is the first special date when we really want to express our feelings for the other person with something special. Many things can be given as a gift on this occasion, and it doesn't necessarily have to be an object.
Almost a quarter of a century - 20th birthday present
20 is also a cardinal year in a person's life. Almost a quarter of a century is fitting to be celebrated in as large a company as possible.
Thus, as a 20th birthday gift, we can think of, for example, the first big holiday abroad - obviously with friends -, a high-quality concert, or a ticket to some large-scale party. But in order to give something tangible, there are special gift packages for every occasion that are guaranteed to bring joy to everyone.
Of course, not only close relatives give gifts at this time. For more distant relatives and friends, a birthday gift box can be a perfect choice, in which everything good can fit. If we are not attending the party in person, then sending a birthday gift is an excellent solution.
The good "old" 30 - 30th birthday present
30 is the first elegant anniversary, after which a person's life usually continues in a more serious direction. After the parties and entertainment, from here on the family and the creation of existential security are the main roles.
The first year, when we are already taking stock of the passage of time, but still very enthusiastically and with a kind of haughty smile on our faces. This birthday is clearly marked by big parties and friends. In such cases, the main gift is often a more branded, more elegant drink, but don't forget a special birthday gift box or a beautifully arranged bouquet of flowers either, especially if the person belongs to the weaker sex.
The odd 40 - 40th birthday present
40 is the final farewell to the young years and, whether you like it or not, the acceptance of middle age. From here on, there is really no fairy tale, anyone over 40 is an adult.
40 years is a strange date for everyone, mostly it is the first shock that time really passes. This is also expressed by gifts,  it is no longer characterized by an unexpected trip, a great concert, or even an elegant dinner invitation. However, ordering special birthday gifts is even more so.
This is the moment when you don't necessarily manage to thank the celebrated in person, at least as far as friends are concerned. Everyone has their own family, we are often far away from each other or just terribly busy. In any case, a nice selection of drinks and gifts will get everyone through the trauma of turning 40, which is not coincidentally also called the midlife crisis.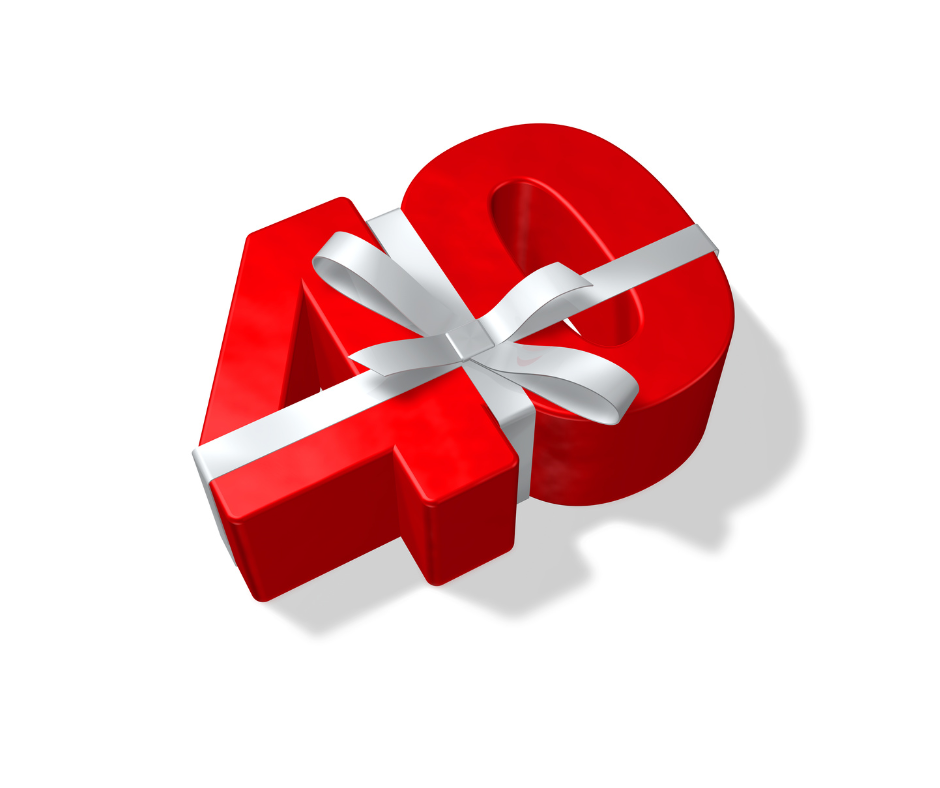 The big comeback: 50 - 50th birthday present
Perhaps the most celebrated year is 50, half a century, which is also the end of many things, and is often defined as half a life.
Nowadays, they say that fifty is the new thirty. There is something in this, because although a person is no longer young and most things have already happened to him in life, he regains strength. Perhaps it is precisely because of the former that there is still power here. Usually, an elegant dinner is the most important component of the celebration, which can be attended by relatives as well as friends.
When it comes to 50th birthday gift ideas, we are certainly not in an easy situation. Perhaps the most important thing is to have something special that cannot be bought anywhere, something that is specifically for the celebrant. It can be chocolate or whiskey, the point is that it can show something new even after half a century. In this case, sending a birthday gift is a particularly elegant solution.
60 already belongs to aging, but the youthful vigor is still not missing from these 60th birthdays, and at 70 you can no longer turn a blind eye to old age, and the rest is just recognition and remembrance.
A few moments are just the perfect gift
Ordering special birthday gifts through meglepetesem.hu is always quick and easy. All you need is an internet connection and a compatible device, which can be either a notebook or a smartphone. And the ordering process takes no more than two minutes.
In the assortment, you can find something special not only among the high-priced birthday gifts, but in all price categories. If only because the birthdays of an 18-year-old and a 60-year-old are different. And, of course, there are gift selections that are completely independent of age, yet special and can be ordered online for anyone.
An example of this is the Specials birthday gift package, which has been selected so that all age groups can find the most exciting delicacies in it. The Harmonia gift package, which got its name for a reason, is similar. It definitely creates balance in us on an 18th, 40th or 70th birthday.