Easter was about Easter eggs, and delicious Easter food a few decades ago. In addition to these, Easter gifts are also very important today. So much so that many consider Easter to be the spring Christmas season, and devote a corresponding amount of time and money to Easter gift box ideas.
Another new trend is that not only boys and men after the traditional Easter sprinkling, but also girls in the name of equality (i.e., the gift of Easter to children, regardless of gender) will receive gifts. Moreover, in the name of simplification, families also give each other gifts. Here's a list of what Easter ideas might come up if you think of men, boys, girls, women, or an entire family for this beautiful holiday occasion, to surprise them with an Easter gift box.
Easter gift box for men
Traditionally, Easter is about a hearty food for men while visiting kinship, friends, neighbors. Among the gifts of Meglepetésem.hu there are some that are especially traditional in this respect, and the delicacies are built around some fine wine or champagne. At the same time, we also thought of those who do not see Easter as an occasion to consume alcohol, in moderation. I recommend them our non-alcoholic Easter gift box, which is an excellent Easter gift for men who choose sobriety even then.
Easter gift box for boys
The boys used to be able to show at Easter how skillful poets  and how receptive they are when it comes to sprinkling. The girls and ladies expressed their appreciation with Easter eggs, Easter chocolate and some pocket money. The genre of Easter gifts for boys has been renewed in recent years: the Easter gift box can even be ordered in advance, or if a relative boy is virtually sprinkled from a greater distance, practical home delivery can also be requested. You will definitely find what you are looking for in our Easter offer.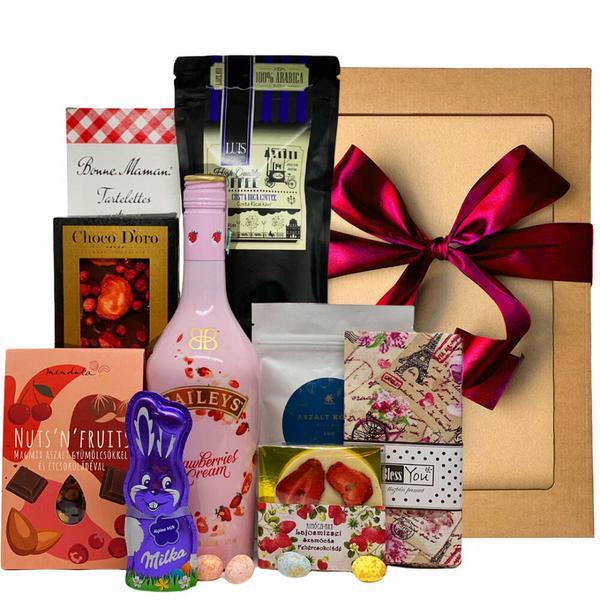 Easter gift for girls

The gift of Easter to girls a decade ago was certainly not as prevalent as it is today. In the past, the girls showed their beauty, their ability to cook and fry, and their imagination and skill with egg painting. Nowadays, the gift is also for girls so as not to be offended. This is understandable, since who claims that only boys want Easter chocolate and other Easter sweets, surprises? Our offer now for girls is definitely glamorous: Easter Chocolate Basket!
Easter gift for women

An Easter gift for women? Well, if the previous category wasn't common in the past, it's an even weirder case for old-fashioned people, maybe it's "if you already get an Easter gift for a man, a boy, a girl, don't miss out on women or ladies either". But practice shows that on Easter, more and more people are thinking about women as well - quite rightly, as they are mostly the ones who refresh the household on the occasion of the holiday, and we can be thankful that delicious Easter food is on the table. I'm sure You  can find on the page: Gift boxes for women a gift to dazzle a lady family member, relative, or perhaps your sweetheart!
Easter gift for babies
The theme of the Easter gift for kids is outlined above. However, the Easter gift box for babies is again a more unusual need, yet not unprecedented in recent years. As we have not yet experienced crowds ordering an Easter gift for babies, we have not opened a separate subcategory. However, such a gesture is very much to be appreciated. If you want to treat the little ones to Easter, I suggest you choose a gift box on New Baby Gift collection page, and you can even add to the gift box an Easter chocolate bunny - in this way combining practicality with kind intent.  
Easter gift for the whole family
If the idea of ​​an Easter gift box has gone so far as to surprise the whole family, it's worth reviewing our Easter gourmet Gift Basket page. Time is definitely better, as you don't have to figure out and choose Easter gifts. In addition, the impact of such a family-packed Easter gift basket orEaster gift box is more substantial. Meglepetésem.hu's premium Easter gift compilations consist of high-quality handcrafted products, quality drinks, special chocolates, sweets and other gourmet delicacies. If you are thinking of your own composition, of course you have the opportunity to put a unique Easter gift box together. You can also order the obligatory supplies, Easter chocolate or Easter card separately. It works better than most baskets in this category, as you do not have to pay a delivery fee for orders over HUF 30,000.