A long time ago, the gesture of gift-giving was a distinctly male privilege, and this is certainly no accident. Women enjoy things more easily than bearish men. At the same time, it turned out that on important holidays it is appropriate to thank the males with something. The only question is, what should be the thing that they are also happy about.
It is difficult to decide whether it is a regrettable fact or rather a joyful fact that it is easier for women to buy gifts than for men. A simple object is a gift for them even if it cannot be used for anything. Women don't care if you can't drill, hammer or file with the given thing. That's just who they are, and that's what makes them so lovable.
Perhaps this is because women can be happy about everything in which beauty can be seen - unfortunately, the same cannot be said for the stronger sex. Men are practical, which of course can be positive in everyday life, but depressing when it comes to choosing gift. Adam's children are only happy when they eat, drink or use something.
For choosing practical gifts, there are the technical and DIY webshops, where a lot of really useful tools are available - but now let's look at the other 2 categories. After all, this is the gift package for men containing all kinds of earthly goods, which really cuts into our profile, and which Meglepetésem.hu is good at.
Eating, drinking - is the way to a man's heart really through his stomach?
Before we take each age group in turn, two comments.
When it comes to alcoholic selections, there's plenty to choose from in men's gift packages. Typically, somewhere the wine and somewhere the short drinks play the main roles. We can also find brandy, unique and whiskey combinations. Of course, we only choose the best of everything. At the same time, it is worth considering whether the recipient drinks alcohol at all, because if not, then a non-alcoholic package with tea, coffee or syrups should be considered.
The gourmet gift package for men is another very promising choice from the point of view of consumption, as it contains everything that has a special taste and even causes pleasure. It's hard to miss such a surprise, especially if it's a lady. Of course, it doesn't matter to which age group and to whom we give the selection.
Lad, middle-aged or older men
The older age group typically no longer sticks to alcoholic beverages, they are more attuned to real gourmet specialties. As age progresses, people become more and more sweet-toothed, and this certainly applies to men as well. In the age group over 70, sweets and special chocolates can easily play the main role in men's gift packages, but honeys and jams are also sure to make most men's hearts beat faster.
The age of transition also applies to middle-aged men, many of them begin to feminize in several ways. Of course, we don't want to say that men's gift packages should consist of red roses. It would be an exaggeration, but for example, many people start cooking in their 40s and, as we know, males look for the special in everything. Therefore, for example, rare, exotic spices can also play the main role in a selection.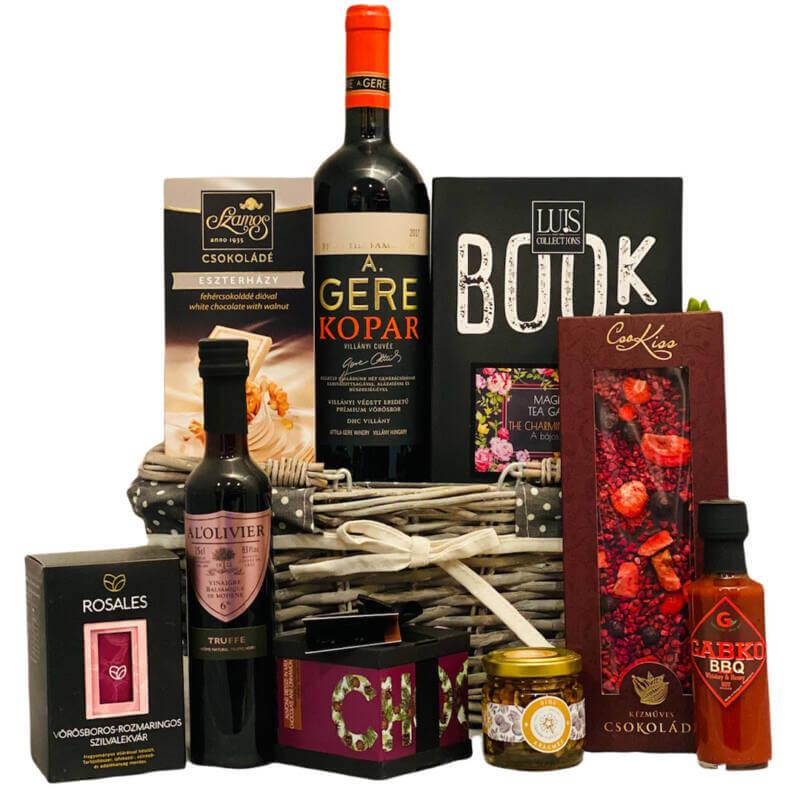 Young men are different again, they are even wild and free.. The gourmet gift package is the protagonist for men, so what else could it be other than alcohol, for example a nice selection of wine and tobacco products. In the latter case, of course, you don't have to think of cigarettes, but of high-quality cigars, which you can use in front of your friends, or just puff away in silence.
Those even younger than that, i.e. the boys, deserve a separate article, but let's say a few words about them here. Sweets and stuffed animals, or a combination of them, are without a doubt universal gifts until a certain age. If we are looking at babies even younger than this, I recommend reviewing the baby shower gifts, and if the question is about a gift for graduations teetering on the edge of adulthood, a chocolate bouquet will probably be a cool choice - even if we want to give the gift not specifically for graduation, but for a name day or birthday regarding.
The gift package for men is not an easy challenge, but we have seen that there are more natural surprises for all age groups.